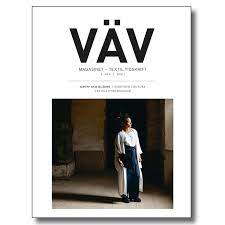 VAV
VAV Magazine - 2019/3
Regular price
£8.00
£0.00
Tax included.
Shipping
calculated at checkout.
A Scandinavian weaving magazine which travels the world and explores weaving techniques, traditions and innovations. Intriguingly unique but exquisitely produced, Vav magazine is dedicated to the world of Scandinavian weaving, and is the English edition of the most widely read textile and weaving magazine in Scandinavia. 

Each issue contains up to 10 complete weaving projects which include instructions, drafts and photographs. The weaving articles feature eminent weavers and samples of their work, traditional and experimental weaving techniques, and exhibition reviews. There are also useful features such as how to warp your loom, sley the reed, and use temples.

Published quarterly, this lovely magazine offers an excellent balance between articles about weaving and projects to try out yourself. The articles are well written, including features on famous weavers, weaving itself, weaving groups and weaving history. The second half of the magazine covers projects for every level of ability, whether this might be weaving a jacket, curtains or a rug. These are thoroughly described, and the magazine is filled throughout with some lovely photography.
Content in 2019-3
Articles
8 Everyone's Story Our Own
11 A Rag Rug Fest
12 Textiles, Coming Full Circle
15 Textile Courses in Sweden
16 Konstfack, Stockholm
17 HDK – University of Gothenburg
18 The Swedish School of Textiles In Borås
19 Friends of Handicraft, Stockholm
20 Capellagården, Öland
21 Amy Revier meets Capellagården
22 Sätergläntan Institute of Crafts
23 Nyckelviksskolan in Stockholm
24 Stenebyskolan in Dals Långed
25 Investigating Materiality
26 Anatolian Hemp Weaving
28 Pattern Magic
30 Apparel Art
32 Pale Pink Body Raiment
33 Recognition
36 Weave Your Own Garment Cloth!
40 Sustainable Fashion

Regular Features
5 Editorial
6 Textile News
66 Calendar
68 Book Shelf
69 Orders
70 Next Issue

Drafts and Projects
42 Handwoven Couture
44 The Summer Herringbone
46 And the Winter Herringbone
48 The Littlest of Checks
50 Large Checks in Lace Weave
52 Top with Little Silky Checks
54 Woollen Jacket in Lace Weave
56 Straight Skirt in Twill
58 Woven Sweater with Grown-on Sleeves
60 Portable Style

---
More from this collection